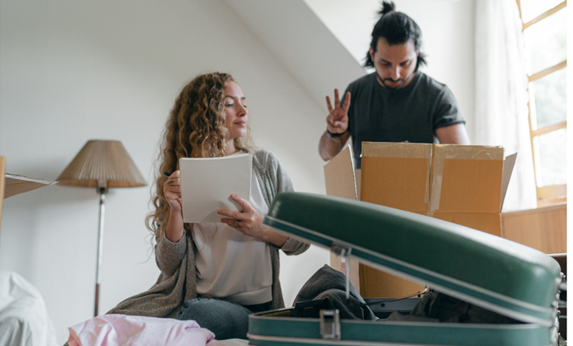 Galleon's Ultimate Relocation Checklist: Moving To A New Country Made Easy
Moving overseas is the ultimate adventure and can be a positive and life-changing experience, opening up a world of personal, career, and relationship opportunities.
Whether you're pursuing a new career, want to study at a university outside of the UK, or simply crave the chance to explore the world and broaden your horizons, relocating abroad can be both rewarding and challenging. So, before you book your tickets and wave goodbye to your old life, there are several steps to consider so you can make the most out of your adventure.
Get To Know The Country You Plan To Move To
The first step to relocating abroad is to research the culture, language, and climate of the country you're planning on moving to – in as much depth as you can. Learning about a city or country before you move, and visiting it a few times if possible at different times of the year, is essential for understanding customs, expectations, and other important factors that will influence your transition and shape your experience of living there. Researching the job market, educational opportunities, average salaries for working abroad, retirement rules for expatriates and any other information relevant to your move can help provide clarity on what to expect when living in a foreign country.
Find The Right City Or Area To Relocate To
When deciding which city or area to relocate to, it's important to consider your lifestyle preferences, the local cost of living, economic conditions, and the proximity of work and/or educational opportunities. Some areas may be better suited than others depending on what you want from them. Think about your budget and whether you are looking for a quiet commuter area, a cultural centre, or a busy nightlife hub.
Acquire The Right Working Residency Permits
The biggest hurdle to relocating overseas is working on residency permits. Since Brexit, you can no longer automatically move to an EU country to live and work, and unless you have dual citizenship with the place you're moving to, you'll need to apply for a working Visa and right to remain – either before you leave the UK or once you've arrived in your destination. Depending on the country where you are moving, the process can take anywhere from three weeks to six months, so it is important to plan and allow enough time when submitting documents such as birth certificates, marriage certificates, passports etc.
Some countries are stricter with their immigration requirements than others, too – with some, such as Australia, operating a strict points-based immigration system. You'll have to demonstrate relevant skills and competencies in order to obtain long-term residency. All the relevant paperwork should be obtained prior to your departure date so that there are no delays when applying for visas or permits.
Find Somewhere To Live
When looking for accommodation abroad, it is extremely important to use a trusted housing platform or agency to ensure your safety and wellbeing in unfamiliar areas. Use Reddit or Quora to seek out recommendations from other expatriates, if available, and always look for credible testimonials before taking out financial or property services. There are numerous factors to consider when selecting a place to live; the main ones being what you are looking for in terms of budget and whether you want to rent or purchase a property.
It's also important to consider what nearby neighbourhoods are like in terms of transport connections, schools, local shops, supermarkets, amenities, crime rates etc.
Find Out More
If you have any questions about moving overseas and would like to speak with one of our specialists about our global relocation management services, please call Galleon today on 01708 868068. We can help walk you through the steps you need to take and ensure you don't miss anything crucial for your move.
Image Source: Canva